Curve Ball Summer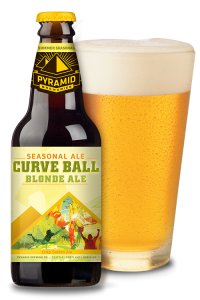 Sliding into summer and satisfying the demand of those searching for a thirst quenching craft beer to cool the heat, Pyramid Breweries announces the triumphant return of Curve Ball Blonde Ale.
The deceptively drinkable golden summer seasonal is a crisp, clean-tasting, cold lagered ale. Exemplifying the blonde ale style, Curve Ball pours a beautiful bright golden hue and offers the balanced, refreshing taste perfect for accompanying summer adventures. Curve Ball delivers a clean, refined malt body, ideal for pairing with timeless summertime treats and BBQ traditions. Accentuated with subtle herbal and spicy characteristics, thanks to Vanguard and Perle hops, this seasonal offering finishes dry and crisp.
"Curve Ball is a classic representation of a quality craft beer embodying the season in which it's poured," said Mike Brown, Commissioner of Inspiration and Aspiration for Pyramid Breweries. "From the first sip of the season, all the way into summer's prime – this deceptively delicious beer delivers on full-flavor while providing the perfect companion to all warm weather festivities."
Available from April through July, Curve Ball will be offered in 12oz and 22oz bottles, 6-packs, and 12-packs as well as on draft. Curve Ball will also be featured as the seasonal star of Pyramid's Summer Variety 12-Pack, alongside of three year-round offerings – Audacious™ Apricot Ale, ThunderHead® IPA and Pyramid's Haywire® Hefeweizen – the standard by which all other wheat beers are judged1.
Curve Ball Blonde Ale is one of four offerings in Pyramid's strong seasonal portfolio featuring Fling™ Pale Ale (Spring), Juggernaut™ Red Ale (Fall), and Snow Cap® Ale (Winter).
Learn more about Curve Ball Summer by viewing their website here:
www.PyramidBrew.com