Corona Light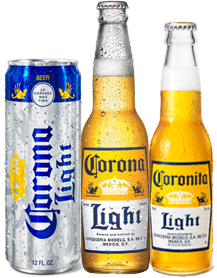 Corona Light was introduced in the United States in 1989 and became the first imported beer to sell more than one million cases in its first full year of distribution. Corona Light is brewed and bottled in Mexico by Grupo Modelo, Mexico's largest brewer, operating seven state-of-the-art breweries throughout Mexico.
Corona Light is the #6 imported beer in the U.S., and the #1 imported light beer. Total U.S. average growth rate for the last 10 years (1998-2007) is 17.1%.
Consumers characterize Corona Light by the same relaxed, fun-in-the-sun brand image that defines Corona Extra, only with less calories. And unlike other beers that skew heavily to the male consumer, Corona Light has well balanced appeal across both male and female consumers. Corona Light's tremendous growth has made it a driving force of the Corona brand family.
Learn more about Corona Light by viewing their website here: