Beauchamp Distributing Company was founded April 1st, 1971. The first black-owned Miller brewing Company distributorship in the United States.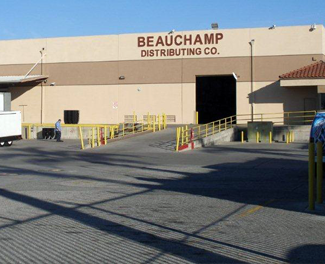 From that beginning in South Central Los Angeles, with seven employees and 300 accounts, Beauchamp Distributing Company has grown to over 100 employees and over 3,000 accounts.
June 11th. 1984, Beauchamp Distributing Company moved to its present location in Compton in a new 100,000 foot facility; one of the largest and most modern beer distributorships in the country.
The current territory of Beauchamp Distributing Company includes all or parts of South Central Los Angeles, Beverly Hills, Brentwood, Compton, Culver City, Hollywood, Inglewood, Malibu, Mar Vista, Pacific Palisades, Palms, Santa Monica, Venice, Watts, West Hollywood, Westwood, Artesia, Bellflower, Cerritos, Downey, Hollydale, Paramount, South Gate, and adjacent areas.
Beauchamp Distributing Company is proud to represent the complete line of MillerCoors products (Coors Light, Genuine Draft, Miller High Life, Lite, Magnum, Milwaukee's Best Light and Sharp's) As well as a fine line of other domestic craft and imported beers. The company also represents non-alcoholic beverages.
The Company has grown each year that it has been in business and further expansion is anticipated.